Stock up on bird seed and grab a pair of binoculars!  Whether you live in the country or in the city, you can have fun learning about  wildlife in your own backyard. Here are some bird watching activities and ideas to get you started.
1. Make Your Own Bird Feeder. You can make your own bird feeder using a pine cone that has been covered in peanut butter (or any other kind of nut butter) and rolled in bird seed. Hang it from a branch with some yarn and watch the birds fly in to feast!
2. Make observations in your front yard. Take notes and listen to the different bird calls. Certain birds like certain foods. Try feeding with different foods and see which birds eat the different foods. What kind of birds do small seeds attract? What kind of birds and do peanuts attract?
3. Create a bird collage. For an art project, draw or photograph the different birds you see, then make a collage using the different pictures.
4. Make a bird mask. Create a bird mask. Check out this link for instructions and templates to make your own bird masks: http://housefulofhandmade.blogspot.com/2010/09/goofy-bird-masks.html.
5. Design a Paper Airplane Bird. Fold a paper airplane and color it to look like a bird of your choice, for example and eagle, parrot, or raven. Experiment by cutting your birds into different shapes. Give some birds shorter wings, give some longer beaks. Then test out your bird's flying abilities and see which bird flies the farthest, spins, ect.
6. Build a Birdhouse. There are many templates online and instructions on how to make your very own birdhouse to put in your backyard.  Here are some instructions on building a bird house from scratch.  For an easier option, you can purchase a birdhouse kit online and put the pieces together yourself.   Click here for a birdhouse kit you can buy on Amazon.Com 
7. Go on a Bird Watching Walk. Take a walk around your neighborhood, and observe the birds in your area.
8. Visit your local Parks. You can get a great look at many animals, including your local bird species. Use a bird book to identify the different bird species, like this one you can buy on Amazon.com, National Geographic Field Guide to the Birds of North America.
See if you can recognize the different birds by the sound they make. Take notes of the birds in their natural habitat.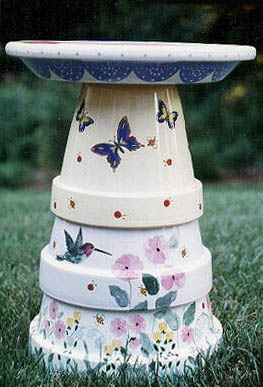 9. Make a Bird Bath. Use a plant pots to make your own bird bath. Click here for instructions on how to make a bird bath with flower pots.
10. Plant a Tree so the birds will have a place to hang out!
11. Get involved in documenting the birds you see in your area.  Take part in the Great Backyard Bird Count for Kids by following this link!
You can find many more bird watching activities  for kids on the web.  Check out a looong list of bird watching activities on TLC's website –> TLC's Bird Watching Activities for Kids
Have a bird watching activity you want to share? Email me with your suggestions: vlrynn@gmail.com or leave a comment below!